The first place we visited was
Paradise Country Farm
.
The greenery and serenity of the farm was a breath of fresh air from metropolitan Singapore.
The peace and quiet was a perfect remedy for a very tiring and cramped flight journey.
It felt great to be able to exercise our leg muscles by doing a little walking and doing it in the cold, windy weather was perfecto!
Paradise Country Farm is a really great way for urban bodies to get back to nature.
The first show we watched was about horses.
The Aussie cowboy educated us about horses while doing some rounds with the beautiful animal.
Do NOT try it at home.
The brown beauty is bigger and stronger than it looks - and fast too!
I would love to ride on it but unfortunately, we weren't allowed to.
Tip: You should try the bread that Paradise Country Farm gave (it's FREE!) at the end of the first show. It is YUMM-O! I can't remember what the bread was called but you have got to try it. It's creamy, soft and oh so yumm-o!
Ok, moving on.
After a very entertaining second show, it was PHOTO-TAKING TIME!
Fayrah was just too distracted by the doggy.
Notice the pout? Not mine, of course.
The next show that we watched was sheep-shearing.
No man was harmed during the course of this show.
From our perspective, it looked painful for the sheep.
But throughout the whole process, the sheep was not bothered at all about having its fur being "shaved".
It was only fussing because of not being able to move about (Kind of reminds me of a little someone).
It was pretty amazing.
You should have seen the fur.
It was think! Like SUPER thick!

How often would you get a chance to take pictures with a "pageant" of sheep?
After loads of watching, clapping, ooh-ing and aah-ing, we had to eat.
The great thing about Paradise Country Farm is that the food is HALAL - a great plus point for Muslim families.
Amaze-balls!
The HALAL certificate is displayed very clearly - so no worries, my fellow Muslim brothers and sisters.
Eat without any doubt.
I wanted to snap pictures of the yummy food spread but I was too hungry to do so. Heh..
Tip: You MUST try their potato gratin! It's a must! Eating hot, freshly baked creamy potato gratin in the fantastic windy cold weather was amaze-balls!
Full stomach equals smiles..

2 out of 3 smiles is a pass, right?
What I absolutely love about Paradise Country Farm (besides their delicious potato gratin. ARGH! I want it NOW!)is the ability to get real close to some of Australia's native animals.
One of them is the kangaroos.

Fayrah was trying to get off DaHubster's lap to get to the roos.
Next native animal is...Can you guess it?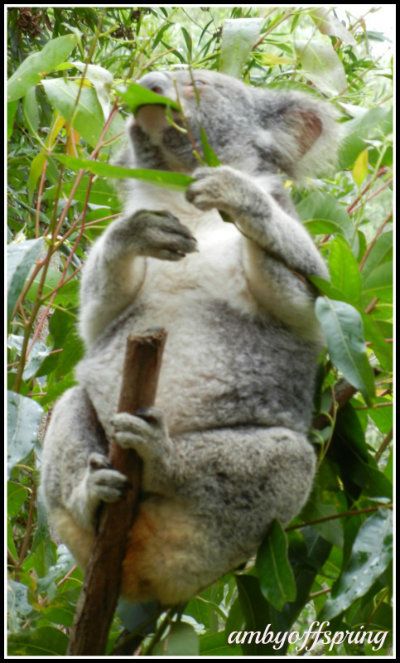 Koala, of course. DUH!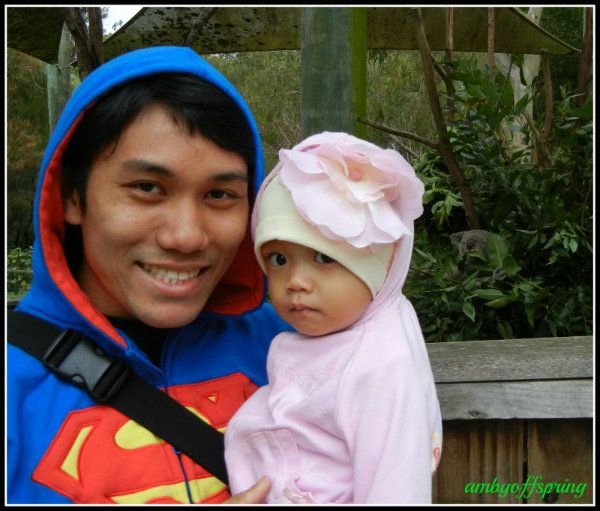 Can you spot the koala?
You also get to feed the lovely animals - as long as you can stand their "aroma"! Heh..
Have you ever seen SUPERMAN feeding a farm animal? Now you have.

Fun but stinky, very stinky.
What an amazing place to visit!
Paradise Country Farm was a great start to our family vacay.
Finally! A smile!
That was end of Day One.
Next post - SeaWorld.