I have made a conclusion.
Maybe some people will find it baseless. Maybe some people will agree. Whatever it is, I think that it's true in some sense.
Makeup is a lying tool. It hides imperfections to create an impression of a perfect face.
There are certain ladies who look fascinating when she's made up but I just end up looking like Bozo the Clown - minus the hat of course.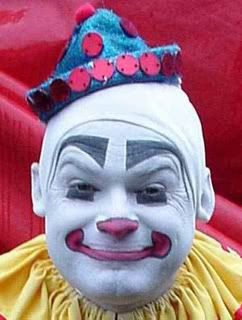 Not wanting to sound like a sore loser but I am quite comfortable that I look much better without (excessive) makeup -

very

comfortable actually.
However, with the amount of heat that is in Singapore, sunscreen is definitely a must-use - as well as loose powder and maybe on I-feel-like-I-must-hide-my-pimple-scars-eventhough-BabyLuv-don't-give-a-shit-about-them days, concealer stick.
But one makeup item that I believe ALL women (around the world) should MUST
have is - a strong love and great acceptance for who they really are without having to hide anything.
A huge YAY! to self-confidence!! Woo Hoo!