While the Chinese celebrated Lunar New Year, the non-Chinese (me inclusive) cross over the border for a short, short holiday.
We head on down to the capital of Malaysia - Kuala Lumpur.
Our hotel was situated in the town area of the city - the area where it was happening. But look at how empty it was the morning of 19th February 2007! It was absolutely fantastic to walk around hassle-free. I did not have to fight for space! I had it all to myself! Bliss!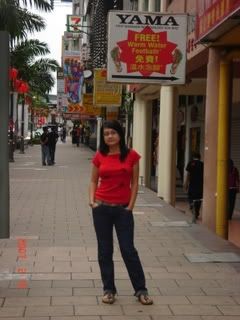 Formula One for a great vacation - People you love! Without them, vacation is just nothing. But when these people are there with you, it's not just a vacation, it becomes a darn great one!
Formula Two for a great vacation - Great food topped with celeb encounters! What's a vacation without trying out some of the local cuisine. As most of the shops were closed during the long holiday, we were lucky that Linda Onn's chicken rice stall was opened. To make it hundred times better, we met the owner herself plus her one heck of a hot, hoooooot boyfriend, Fahrin.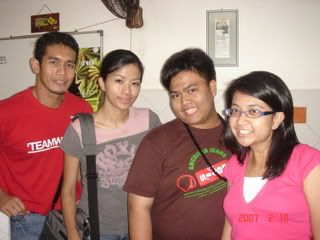 Aaaaaaahhhh...Alhamdullillah. The much-needed break.
Au revoir, jolly people.