Just came back from a heck of a "photo session" at Boat Quay/Fullerton with the girls. Boy, was it tiring! But darn worth it. The humid conditions did nothing to stop us from posing for one picture after another and another and another....Hehehehe


Me,Sab,Aiza and Fizah were the "models" for the moment. I am sure there is a timer function on my digicam but I just do not know how to go about getting to it. Hehehehe...So we had to ask someone else to help us take a picture of the four of us. So fortunately, there was this Chinese boy who was passing by and so we decided to just go up to him and ask for help. Luckily, he obliged. It turned out pretty good. Hehehehe...If only, the back view was clear enough, it would be extremely magnificent. What about this pic below?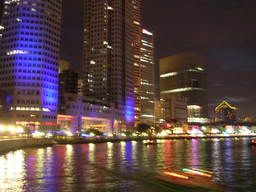 The picture on top is the side view of the lights and life at boat quay from afar. I never really fancied being part of the chaos there. The crowd just does not make me feel at ease. It makes me feel so unsafe. I hated being there. You will never find me walking down the stretch of restaurants by myself. There is just too much pressure of wanting to be accepted by the crowd, the smoke and smell of beer. EURGH! Makes me wanna puke. But if you were to stand and look from afar, it is actually very beautiful. I love taking pictures like this. It just makes you appreciate the beauty of the world that ALLAH has created for us. It can also make me be even more grateful to ALLAH for giving us, humans, the intelligence to build those skyscrapers and make everything so alive with the wonders of light.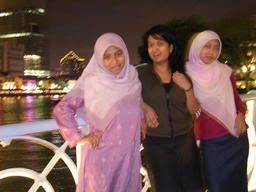 Aiza - the photographer-wannabe - took so many "shaky" pictures! Hahahahahaha....Steady hands girl! Anyways, this picture is great minus the not so clear results. The three of us look fantastic! Hehehehehe... Put the tongue back in,Lizzie. hehehehe


This lady in the picture on top is Fizah. She is very ladylike. She's pretty, isn't she? Very soft-spoken and loves cat! But bad news guys, she's taken. But she's a real good friend of mine. Always helping me buy my fave - ROTIBOY!!!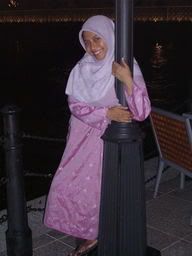 This one on top here is Sabrina. No, she is not a teenager neither is she a witch. Hahahahahahaha...She is very opinionated. Well, it really depends on how you look at it. The characteristic can be both good AND bad. It really depends on the situation. She loves cats as well.And yes guys, this one is taken as well. She is constantly talking about how she needs to save up money for her wedding. Well, I guess it is ideal to get married as soon as you can. Kurangkan maksiat!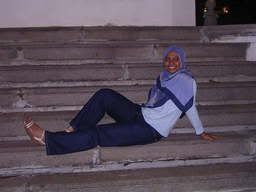 I assume you have seen this lady before. Yes, you are right. This is Aiza. She is the librarian friend of mine. The picture on top is one of her "Next America Top Models" pose. Hahahahaha...This one is scared of cats. You should see the look of horror and shock on her face when she saw the cat, which was sleeping by the way, on the counter of the river taxi booth. Hahahahaha...And yes boys, this one is single and available.
Aaah..what a well-spent Saturday! Now I am feeling darn tired. I need my beauty sleep. Thank you Allah for blessing me with such great, awesome friends who has made my otherwise routine weekend more exciting and enjoyable. Amin.