It's Mak's birthday today. She's now.....ermmmmmm.....GOSH! I don't know how old she is. ARGH! Dumb ass! Anyways, she took the whole family out for dinner at this new Javanese restaurant somewhere in Thomson, I think. Mak and Bapa had actually went to surveyed on this restaurant earlier and the feedback was that the food was yum yum.
But it was really dissappointing when we got there and ordered. One thing, it took ages for us to get the dishes and secondly, the food was not half as good as expected. Moreover, it was expensive! ARGH! Such a dissapointment. Anyways, we took these phots to compensate for the lack of taste on the food.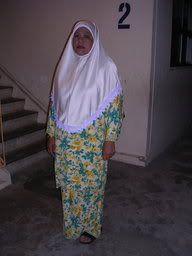 Now, that's the birthday girl! Ain't she just beautiful? I love my mum!So now you know which floor I'm residing at, yeah.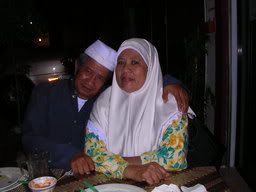 Hehehehehe...That's the birthday girl with her beau...MUAHAHAHAHAHA...who happens to be someone I call 'BAPA'. My dad can be really adorable at times. I think they are one of the most loveliest couple in the whole entire world. Can you believe that theirs was an arranged marriage?They have NEVER seen each other until they were engaged. They have been through a lot together, my parents. I love them to bits! I pray each day that my future husband and I will be as loving as my parents are.Insya ALLAH.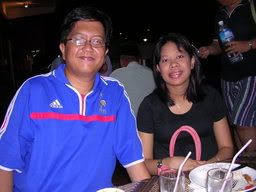 The next couple here is my brother and his preggo wifey. I'm really happy for them. Allah has finally answered their prayers. Kak Arfah is finally being given a chance at completing her womanhood in the form of a bulging tummy.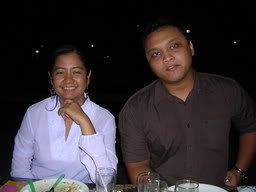 And here we have the soon-to-be-married couple. My sis must be really sleepy, isn't she? Can't even get her eyes open for the picture. Hehehehe...But they are great. Abang Fitri is a very lucky man and my sis is a very lucky lady. These two individuals complements each other. Good luck for the marriage!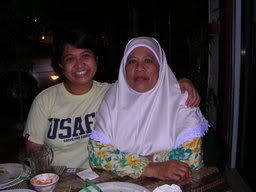 And last but definitely not the very least, moi and the birthday girl. Since I have not found a partner YET (sob sob) So I decided to just take a picture with DA MOM!. And yes, I have taken the big decision to do away with my luscious locks and settle for a funkier (I hope!) do. A new hairstyle for a new beginning. Fresh start.