Here are the long-awaited pics of the "jumping joyahs" namely - Sab, Aiza and yours truly.
Hahahaha...These pictures were actually taken last Saturday, 2nd of April. After an intensive session of posing along the Singapore River, we decided to walk a little further up towards that bridge and (whatever it's name is) to this memorial-like place. Then I had this idea to capture a picture of us jumping in the air. I have seen it almost all the time in magazines and all. The models sure does look like they were having a great time - jumping. Hehehehe...So I proposed the idea to the ladies. Of course, as expected, only Sab and Aiza agreed. I knew Fizah was not really the type to be silly like that. No offence Fizah. I am NOT trying to criticise you but it's just that different people have different preferences. That's alright.

Anyways, here are some of the pics the three of us - Sab, Aiza and moi took to capture the purrfect "jumping joyahs" moment - while up in the air.




OoOOoOoppps...Aiza did not jump on time to be captured. Sab, I cannot see you. REJECT! Okay take 2...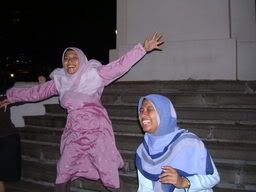 WHAT IS THIS?!?!? WHERE AM I??? Hahahahahaha...How come Aiza has already landed while Sab is still in the air? REJECT! Take 3...




Uh oh..Now Aiza has already stood up and laughing at Sab who is squating like a frog.Hahahahahaa...But where am I? REJECT! Take 4...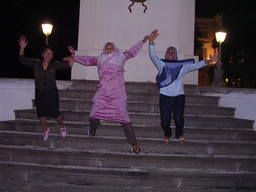 LOOK!! All three of us are up in the air! YAY!! Finally! By this time, we were all perspiring and our tops were drenched with sweat.Hahahahaha..But boy was it fun! Great job girls!