We had something like thanksgiving (kenduri doa selamat) today. It was hectic,tiring, a lot of work but extremely enjoyable. I had a lot of fun doing it. The whole thing was actually for my brother and his wife. We said some prayers. Prayers to thanks ALLAh s.w.t. for the blessings that HE has bestowed upon my brother and his wife. Abang will soon be promoted and the whole family is expecting the arrival of Baby Athirah. Insya ALLAH.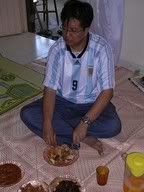 The picture above is my brother. Heheheheheehe...As you can see, he don't seem very happy because I was disturbing his favourite time of the day - eating! Hahahahaha...But this will be the new face of Section Manager. You will be the SORT AND BUMP King, Abang! MAJU MELAYU! Am proud of him.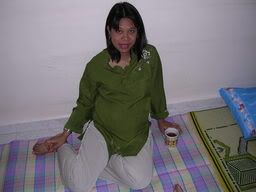 The lady in green (above) is my sister-in-law. Look at that big tummy! Sooooooo cute...I don't know why. I just love to touch and observe the stomach of pregos. It's so huuuuuuuuuuge and so cuuuuuuuuuuuuuuuuuuute! Hehehehe... Pray that she will have the strength and patience to deliver a good and healthy baby. Insya ALLAH. Pray also that she will be in good health.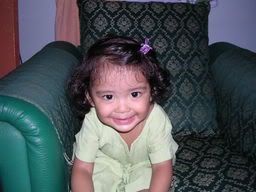 Okay, this one here is Baby numero uno - Fifi or Firza. Isn't she lovely?SHE IS SO ADORABLE! You've got to love those curls Not only are they soft, they are also....curly?Hahahahahaahahah..But she's really bright and will be very pretty when she grows up. That's for sure.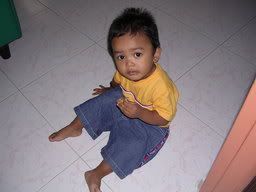 Now this is Baby Number 2 - Anis. He is the Health Inspector. Everytime, he comes to a new place, he would walk around the house with his hands behind his back - exactly like an environment supervisor. He rarely smiles but when he does.....WOO HOO!! Boy, does he look shweeeeeeeeeeeeeeeeeet!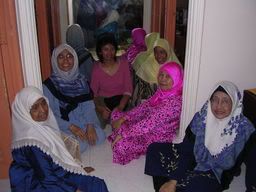 Not only were there babies, there were also "makciks". The picture above are all of my aunties, sitting down and doing what they do best - gossip! Hahahahahahaahha....Kecorable betul si makcik2 ni! But very fun. It's exciting when we organise such gatherings and get to meet and interact with relatives that you do not get to meet very often. It makes me feel at ease. Don't ask me why. I just do.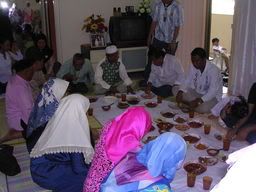 After the prayers, the guests were invited to some delicacies. This was the hectic moment. Food were constantly handed out to the people at my living room (which is like the one pictured above). I was in the kitchen, helping out the other ladies. Phew! Tiring!


But the highlight of the whole thing has got to be the - FOOD! Woah! There was a lot to eat. I especially like the curry puffs. SEDAAAAAAAAAAAAAAAAAAAAAAAAAAP!