I walked down the streets today and saw teenage boys carrying huge heart balloons and teenage girls proudly carrying bouquets of roses.
It's as if each teenage couple is competing with another teenage couple as to who could afford the most expensive V-Day gift.
As I sat and waited for the MRT to arrive, I smiled as I reminisced at how foolish I used to be.
When I was younger, I used to weep because I never received any red roses, chocolates or any gifts for V-Day.
I used to secretly envied those "lucky" girls.
However, as I grow up and slowly began to understand the true meanings of love and of being with the one you love, I find that Valentine's Day is over-rated.
Mainly because all the lovely gifts double and sometimes even triple in price - just for that one particular day.
Moreover, there isn't much speciality in celebrating an occassion with the whole wide world - eventhough it is a day of love.
I find celebrating one's anniversaries more meaningful and romantic.
I am thankful that I found someone who shares the same notion as me.
Alhamdullillah.
Nonetheless, let me wish you who reads this humble blog of mine, Happy Valentine's Day.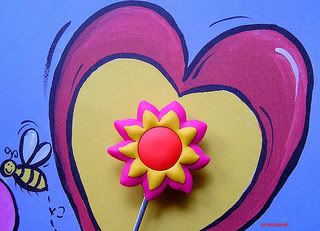 V-Day