Christmas for the year 2007 is all about being environmentally friendly (Even MTV is doing it).
So rather than painting on brand new canvases, local artistic talents decide to display fabulous artworks on...dustbins.
Her:
"Sayang, I wanna take pictures of the cool dustbins ah."

Him:
"Huh? For what sey? Nothing better to do ah. Amik gambar tong sampah."

Her:
"Eh hello, dis is called appreciating art, okay."
And so we walked around Orchard Road admiring dustbins that's been given a makeover.
My theory was: the dustbin that had the most garbage is the
best-looking dustbin of them all.
So we
saved
our rubbish for that winning bin.
And hence, our
BIN QUEST
begins...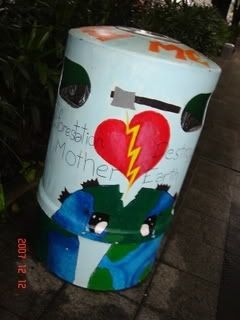 Snap!
Too messy!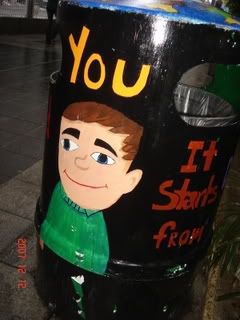 Doesn't appeal to me AT ALL.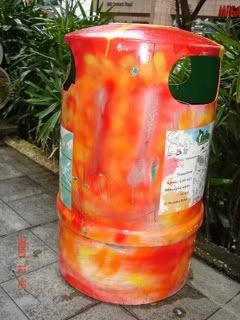 Yuck!
After almost 10 minutes of walking and snapping dustbins while others gave me weird looks, we finally found the winner.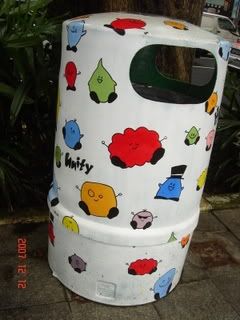 Miss (BIN) Universe 2007.
Claiming his right to the rubbish throwing ceremony