I don't mean to sound like a girl but who cares about a war between robots who are larger than life.
Last I checked, I AM a girl. So yeah, I really do NOT care about that.
But I do care about MyBabyLuv, though. So we went to watch the much-talked-about robots movie, Transformers.
What a movie!
Yes, it may not be one those chick-flicks but I truly enjoyed it!
I cannot believe it either.
Never in my wildest dream would I ever see myself actually enjoy watching robots fight one another and humans helping to rectify the problem at hand.
Never in my wildest dream did I thought I would ever see myself cry (Yes, yes, snort and all) when BumbleBee got caught and when he regained his ability to speak. (Oops, did I just gave part of the movie away. Oops, sorry. My bad)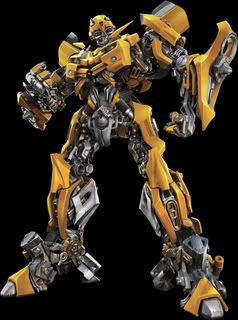 Never in my wildest dream did I thought I would ever find Optimus Prime so darn sexy with his deep, hoarse vocal chords and praticality (Just like MyBabyLuv. Hehehehe...I liiiike).

So as a newly registered Autobot supporter, I shall end this entry with the wise words of the ever so darn sexy Optimus Prime,


"Freedom is the right of all sentient beings"