From the first time I laid eyes on YOU,

I knew right then that we were meant for each other.

YOUR simplicity was what attracted me most.
There was no need for extreme details, my love grew with each realization that YOU are different from the rest.
I felt safe and looked forward to the times when we would be together.

How magical the world seems with each step I take.
When all else seems to fail, YOU always made it all right again..without saying a word.
A touch connects us and the world is right again.

We were rarely apart for I go where YOU go.
None other can replace the true, pure love I saved for thee.
For none other can replace you, my Birky.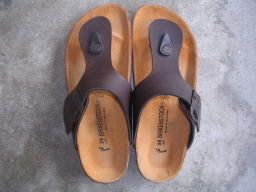 I MISS MY BIRKENSTOCKS!

Damn the bugger who stole it.